Cooperatores Veritatis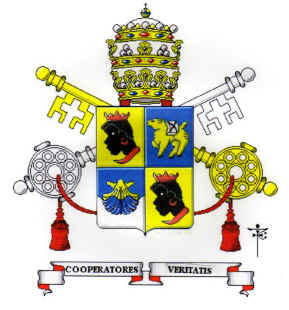 Among the things I have most been looking forward to with the new papacy has been the unveiling of Benedict's coat of arms. As Archbishop of Munich (and later as a cardinal), his coat of arms was the traditional coat of arms of the Archbishops of Munich: a Moor wearing a crown. Then-Archbishop Ratzinger personalized this coat of arms by adding pictures of a shell and a bear wearing a backpack.
The symbolism is as follows:
The Moor

The exact origin of the Moor wearing the crown is unknown, but Ratzinger sees him as a symbol of the Church's universality.

T

he Shell

has a double meaning.

Firstly

, it symbolizes the pilgrim nature of the Church, as the scallop shell is a symbol of the pilgrimage of Santiago de Compostela. Upon reaching the end of the pilgrimage at the Cathedral of Santiago de Compostela, pilgrims receive a scallop shell to remind them of their part in the Pilgrim Church, and also of Saint James the greater, who was a fisherman and is often pictured with a scallop shell.

Secondly,

the shell is a reminder of Saint Augustine, about whom Benedict wrote his doctoral thesis. According to legend, Augustine was walking along the beach, pondering the mystery of the Trinity, when he came upon a child who had dug a hole in the sand and was attempting to fill it with sea water, which he would carry in a shell. Augustine asked the child what he was doing, and the child replied that he was attempting to empty the sea into his hole. When Augustine pointed out the futility of the act, the child replied that trying to understand the Trinity was just as futile as attempting to empty the sea into a hole.

The Bear

refers to the legend of Munich's first Archbishop, St. Korbinian. According to legend, Korbinian was travelling to Rome when a bear attacked and killed his horse. Faced with having no animal to carry his packs to Rome, Korbinian ordered the bear to carry his luggage. Once the bear reached Rome with the Bishop's luggage, Korbinian set it free.

The motto

,

Cooperatores Veritatis

, is Latin for "Co-workers of the truth." This was Benedict's motto during his tenure as Archbishop of Munich, and certainly applied when he was Prefect of the CDF.

For more information on this subject, I found this article (from
Inside the Vatican
) particularily informative. It also includes an awesome quote from one of Benedict's writings, regarding the legends of Saints Augustine and Korbinian.

This Catholic Exchange article references the coat of arms and speculates that he might not keep the bear when his papal coat of arms is released.